In this article, you will find the latest offers of Farmfoods.
The frozen food retailer Farmfoods has more then 300 shops in the UK. The Farmfoods offer great food and amazing prices.
Let's look at the Latest Farmfoods Leaflet
Prices valid until at least 3rd October 2022
46g Twix White / 46g Yorkie Orange: Mix any 4 for £1
6pk Huntley & Palmers Mince Pies: 79p
100g Cadbury Dairy Milk Winter Edition: 79p
100g Pot Noodle Fusions Katsu / 117g Thai Green Curry: 29p each
800g Farmfoods Hash Browns: 99p
1.81kg American Oven Fries: 99p
800g Sunblest Bread: 69p
250g Green Cuisine Nuggets: 69p
908g MJ's Diner Cooking Bacon: £1.50
Huge Selection of Premium Biscuits: Mix any 3 for £1.50
300g Sun-Pat Extra: 99p each
1kg Tate & Lyle Sugar: 2 for £1.25
6pk Heinz Beanz: 4 for £14
1kg Seara Chicken Steaks / Burgers: Mix any 2 for £7
2x Wild Canadian Lobster Tail: £9.99
24pk Coke / Cherry Coke Case Deal: Mix any 2 for £24
10L Vegetable Oil: 2 for £36
18pk Little Duck 3 ply So Soft: 4 for £22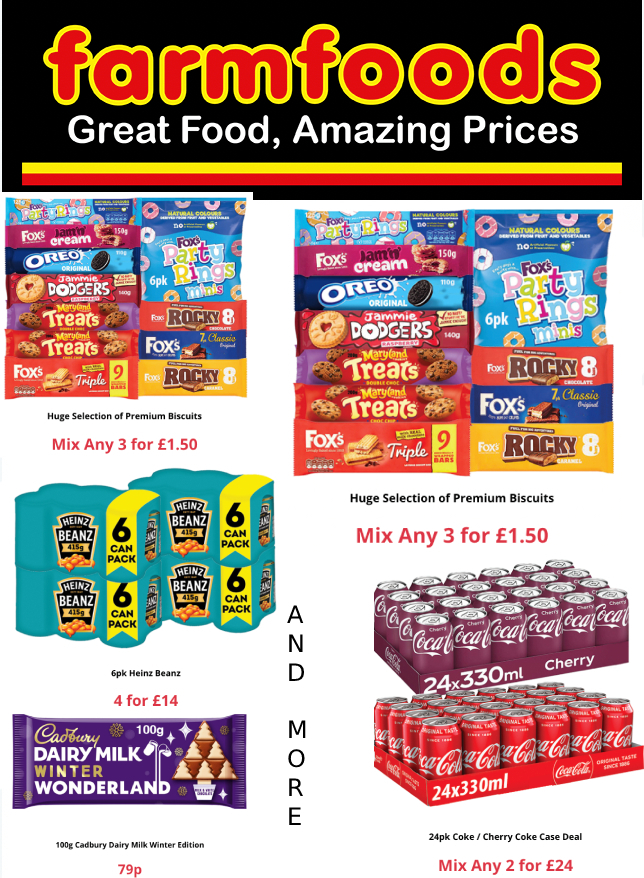 In order to subscribe and get offers & vouchers, you can visit the official page of Farmfoods.