In this article, you will find the latest offers of Farmfoods.
The frozen food retailer Farmfoods has more then 300 shops in the UK. The Farmfoods offer great food and amazing prices.
Let's look at the Latest Farmfoods Leaflet
Prices valid until at least 27 February 2023
24pk Fruit Shoot: Mix any 2 for £11
175g Pancake Mix (Makes 10 pancakes): 79p
250ml Lemon Juice: 69p
Hairy Bikers Aluminium Non Stick Pans: Mix any 2 for £30
1kg Qualiko Crispy Breaded Fillets: £4.99 each
650ml Viennetta Yule Log: 99p
LA Diner Pizza Baguettes: £1 each
450g Easy Cook Half Boneless Crispy Duck with 12 Pancakes & Hoisin Sauce: £4.50
4pk Cadbury Mini Eggs Nest Cakes: £2.49
5pk Cadbury Mini Eggs / Creme Egg Cakes: £2 each
75g Mikado White: 99p
54g Oreo Wafer Rolls: 99p (Was £1.50!)
154g Oreo Twists: 69p each
150g TUC Cheese Sandwich: 99p
85g Sriracha Pop Chips: 79p
Ciao Italia Bruscette / Breadsticks: 99p each
80g Caramilk / 85g Darkmilk: 69p each
120g Cadbury Daim / 95g Hazelnut / 95g Fruit & Nut: 79p each
430g Cadbury Retro Gifting Collection: £2.99
94g Skittles Squishy Cloudz Sour: 59p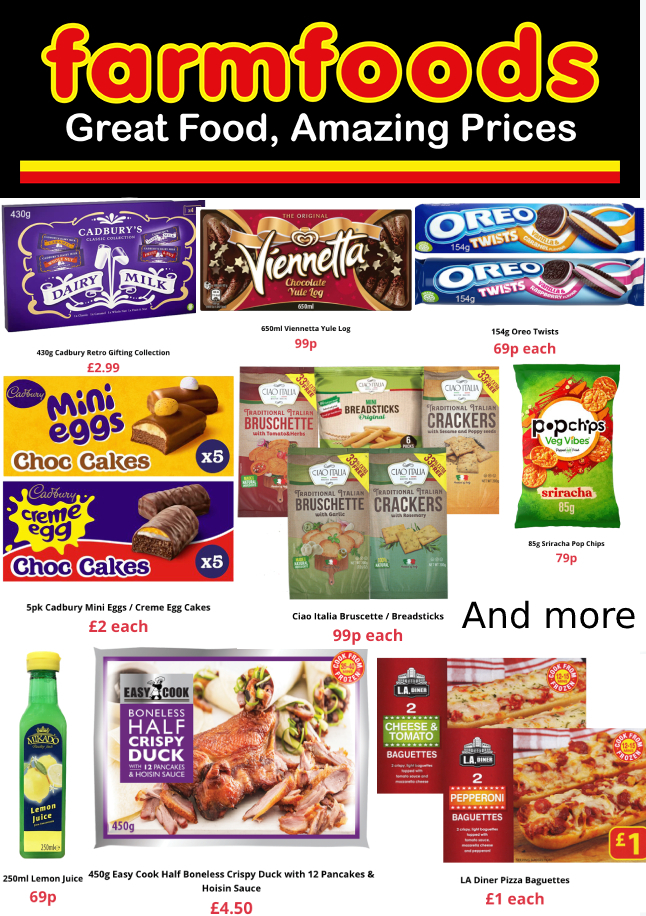 In order to subscribe and get offers & vouchers, you can visit the official page of Farmfoods.