Top 5 Best-Seller Smart Scales Right Now
Youngdo is very well known for its models' dependability and quality. Not only are they very accurate and durable, they also come at a very affordable price. It is not very big as well, you can easily keep it in your bathroom.
MAIN QUALITIES
Brand: Youngdo

Model: 832080134

Weight: 3.85 pounds/ 1.75 kilograms

User Weight Capacity: 396 pounds – 180 kilograms

Measurements: 30 x 30 x 2.4 cm

Rechargeable (so you will not need any batteries)

For exact weight measurements, it has 4 high-precision sensors

Error margin: 0.2 lbs/ 0.1 kg

Ability to measure 23 fundamental body measurements(BIA Technology)
Bluetooth

An app named "Scale Up"

Ability to track up to 999 users

Auto calibration (this feature can be turned off)

Amazon cloud storage (you can track history data)

The surface is made of 6mm high-quality tempered glass

The body is made of high-quality environmental protection ABS.

Ability to measure in 3 weight units(kg/ Lb/ St-Lb)

You can sync your data with Apple Health, Google Fit, and Fitbit

Share your progress on social media.

Stores data for years

Makes an easily readable graph based on your data

Timing weighing
DESIGN AND FEATURES
Even though this smart scale's surface is made of high-quality 6 mm tempered glass and it can weigh up to 396 lbs, it still weighs under 4 pounds and has a very compact structure.
This model guarantees precise measurements as well. It has high-precision pressure sensors in each corner that can measure in 3 weight units and they don't go more wrong than 0.2 lbs.
Thanks to its BIA technology you can measure more than just weight. You can keep track of 23 measurements in total; such as BMI, body fat, visceral fat, body water, subcutaneous fat, and bone density. The bright LED light illuminates the readings, allowing them to be read even in the dark.
It has excellent networking. Its own app, Scale Up, probably needs an upgrade but still, it is a very understandable and simple app. However, if you are not satisfied with Scale Up you can always connect the scale to a different and more successful app like Apple Health, Google Fit, or Fitbit App.
One of its best qualities is the user capacity it has. It can keep track of 999 people which will definitely meet your family's needs. You can also store these users' data in a cloud-like the cloud of Amazon.
All activation and connection functions are automatic and you can easily share your data on social media.
What's more is that it has a rechargeable battery which basically means that you won't have to worry about buying batteries for a very long time.
| | |
| --- | --- |
| PROS | CONS |
| Amazing style | Its own app needs an upgrade |
| Well-constructed | |
| Succesful user weight capacity | |
| Automatic functions | |
| Precise and fast measurements | |
| User-friendly app | |
| A great number of user capacity | |
| Compatibility with Amazon cloud | |
| Rechargeable battery | |
OUR IDEA ON IT
Youngdo's smart scale is a great choice with its ability to store many users' records for an extended period of time accompanied by its accuracy, style, price, and battery.
Cocoda may be your best option if you're searching for a basic, cheap, and dependable smart scale.
MAIN QUALITIES
Brand: Cocoda

Weight: 907 Grams

Strong and compact

Measurements:10.2′′ x 10.2′′.
Rounded corners
Made of high-quality tempered safety glass with a thickness of 6 mm.
Cocoda has a smart app that allows you to;
-keep track of your weight and BMI
-review your progress on a daily, weekly, and monthly basis.
-sync your data to various apps (such as Apple Health, Google Fit, and Fitbit App.)
Measurements with high accuracy:
For exact weight measurements, it is outfitted with 4 latest version high-precision sensors.
Weight readings within 0.2 lb/0.05 kg.

User Weight Capacity: up to 400 lbs.

Backlit LED:
Thanks to its big red digits, you can easily see your measurement even under low-light conditions.
instant readings.
Auto-off, auto-calibration, and auto-zero.
Warnings in cases of overload and battery running low.
Both pound and kilogram measurements are available.
Easy to set up and connect to phone applications.
Comes with two AAA batteries.
DESIGN AND FEATURES
The Cocoda smart scale is well-built and sleek and the fact that it is a light scale makes it easier to move it and put it under a couch or sink. However, its surface may not be big enough to stand comfortably for some people.
The surface is not easily broken when bumped into a corner thanks to its rounded corners and 6 mm strong glass. This also comes in handy when measuring its maximum capacity of 400 lbs.
Since this is a very affordable scale you may wonder about its precision. Cocoda has 2 high-accuracy sensors that work pretty well. We have checked with many other scales and the error margin never goes over 0.2 pounds. Also, keep in mind that you can use it both in lbs and kg weight units.
Normally, lithium batteries are more preferable to AAA ones, but this one uses AAA batteries. However, AAA batteries are generally the best we can get for a device this affordable.
Thanks to the LED lighting, it is very easy to read the scale, regardless of how bright your room is. It has many automatic functions which really facilitate the usage. You can keep track of your progress by easily connecting your scale to its app. It took a little bit of time to pair it with other fitness apps on an Android device, unlike an iPhone whose process didn't even take time.
| | |
| --- | --- |
| PROS | CONS |
| Stylish | Small surface |
| High user weight capacity | Pairing with an Android is not so easy |
| Auto calibration | |
| Ability to connect various apps | |
OUR IDEA ON IT
If you are looking for a scale on an entry-level, Cocoda is an amazing choice with its style, price, and accuracy.
Kamtron's Smart Body Fat Scale gives you everything a typical user might potentially need for a very fair price.
MAIN QUALITIES
Brand: KAMTRON

Weight: 2.9 lbs/ 1.30 Kg.

An application that can sync with Apple Health, Google Fit, and Fitbit App and supports infinite users.

13 fundamental measurements

Uses BIA technology to produce precise measurements

6 mm top notch tempered glass

High-quality sensors keep the error margin at 0.2 lbs/0.1 kg

Ability to measure weight up to 400lbs/180 kg

No manual features, stars to work as soon as someone steps on it.

Immediately synchronizes data if it has been connected

Supports iOS 7.0/Android 4.3 or later devices

Powered by AAA batteries (first ones come with the package)
DESIGN AND FEATURES
Kamtron's Smart Scale works on AAA batteries and is pretty light. It is big enough for all kinds of people to stand on and small enough to be carried easily. The fact that it is small and light doesn't mean that it is a fragile device though, it can withstand and measure a 400 lbs person.
Bodyweight, BMI, visceral fat, bone mass, BMR, protein level, water amount, metabolic age, bone density, and muscle mass are only a few of the 13 essential body indexes accurately measured by BIA technology sensors. ,
As usual for most new scales, it has a step-up technology which means you don't have to do anything to open it, just stepping on it is enough for it to open. Just as you step on it, it will recognize you log in to your user profile in the app. All the data is synchronized in real time with automatic connection and calibration functions. Also, its connectivity abilities are outstanding. The application may be out of date and in need of an upgrade but pairing and setting up was fairly simple, even though it took a bit of time. It has a big flaw though. Whenever users try to open the app at the same time, the app crashes.
With a very low error margin of 0.2 lbs, measurements turned out to be extremely precise after the analysis. You can see your results instantly as well, you only have to wait about 4 seconds. All the records can be integrated with Apple Health, Google Fit, and the Fitbit App, or shared on social media. The ability to get an infinite number of users is a fantastic improvement as well.
| | |
| --- | --- |
| PROS | CONS |
| Easy to use | The app needs some upgrades concerning the crash problems |
| Precise measurements | |
| Reasonable price | |
| High user weight capacity | |
| Auto-calibrating and connection | |
| Easily connected | |
OUR IDEA ON IT
Kamtron's smart scale offers data on many essential health indexes and we can't deny that it gives its money's worth.
Soreli is one of the smart scales that claim exact measurements despite its low price. Let see if their claims reflect the truth...
MAIN QUALITIES
Brand: Soreli

Advanced and Precise Results for 18 Body Compositions

Calculates;
Protein Amount, Protein Rate, Weight Control, Standard Weight, Body Age, Visceral Fat, Moisture, Muscle, Weight, BMI, Shape, Weight Without Fat, Muscle Weight, BMR, Body Fat, BFR, Bone Mass, Body Type Levels.
User Weight Capacity: 396 lbs (180 kg)

Error margin: 0.2 lbs/ 0.1 kg

4 weight sensors

Works on 4 batteries (First 4 come with the package)

Materials: Tempered Glass ABS.

Size: 28 cm x 28 cm

5 modes (Normal, weight only, smart feedback, child, share results)

Types of Data Analysis:
Charts and graphs based on your data
Core Data Analysis.
Front and back comparison images
Detailed Daily, Weekly, Monthly, and Annual Reports
Bluetooth and Wi-Fi 802.11 with authentication protocols and automatic recognition are used for wireless synchronization.

LED lighting

Shows weight and % body composition, as well as user selection, Smart Feedback, and Haptic Feedback.

Available in 13 languages

Ability to track up to 8 people

Fitbit, Health App, and Apple Watch are all compatible with it (iOS and Android version 4.3.)
DESIGN AND FEATURES
Soreli has a contemporary and minimalistic style which makes fitting it under a bathroom sink easy. Also, the signs on the scale assist you in correctly positioning yourself for the best measurement. It is not easily broken thanks to its sturdy tempered glass.
It has standard BIA sensor pairs which provide four types of data analysis and at least 18 body function measurements. Measuring accuracy is 0.2 lbs which is a very successful rate.
The LED screen and touch key are also lovely design elements. This device work on 4 AAA batteries which is very usual for an affordable scale like this.
Measurements and user capacity are not as high as the last model we mentioned however, this scale can track 8 users and it can also automatically recognize who is weighting themselves. Also, 8 users is most probably all a family would need. What's more is that it has a baby mode which allows you to monitor the progress and growth of your baby.
The scale's app is called Aifit app which you can easily set up and use in Android or IOS. The only downside is that it can take a couple of tries to connect it with your phone or computer but after you manage to pair them you will most likely won't run into any more problems.
Your data are immediately transferred via Wi-Fi to the app, where it is then saved, analyzed, and shared whenever you weigh yourself which makes tracking your progress extremely easy.
As a downside, the scale's monitor uses only kilos. However, the lbs version is available in the app.
| | |
| --- | --- |
| PROS | CONS |
| Easy to control | Takes a bit of time to pair |
| Precise | Monitor only displays in kilos |
| Minimalistic style | |
| Baby mode | |
| High user weight capacity | |
| Auto-calibrating and connection | |
| Budget-friendly | |
OUR IDEA ON IT
This one is an affordable option as well. Soreli's smart scale gives you nearly exact measurements and a user-friendly app. Also, the baby mode is a great feature.
5. Fitbit Unisex Aria 2 Smart Scale –

The Best Choice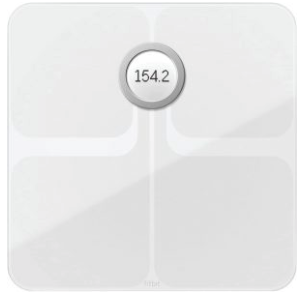 You must've heard about Fitbit if you have ever been involved in any kind of strenuous exercise and used technology to make the most of it. It has an incredible app that has assisted millions of people to properly organize their routines and perform better. Therefore, when you hear the brand's name, you definitely have high expectations. But does the Fitbit Unisex Aria 2 Smart Scale meet the expectations...
MAIN QUALITIES
Brand: Fitbit

Model: Aria 2

Colour: White

Weight: 2.58 kg

Measurements: 359 x 360 x 40 mm

Best Features:
Sync data wirelessly and track your records.
Fitbit trackers and the Fitbit app are supported.
It safely keeps individual stats and recognizes the data of 8 users
Measures weight, body fat percentage, lean mass, and BMI
Compatible with the Fitbit app and all Fitbit devices

Works with Android, iOS, Windows

Ability to connect through Wi-Fi and Bluetooth

Powered by 3 AA batteries

Sync your encrypted data immediately with Fitbit dashboard via Wi-Fi

Network requirements: Wireless 802.11b/g/n 2.4GHz, WEP/WPA Personal/WPA2 personal security supported, automatic (DHCP) IP setup

Bluetooth setup is very simple, it only takes a few minutes

Warranty: 2 years
DESIGN AND FEATURES
We can't say that Aria 2 is very cheap. It is nearly twice the price of some other scales on this list, so naturally, it provides everything the cheaper ones do. However, what makes it more expensive than the other ones or does it have a fair price?
To be honest, there are only two things that may separate Aria 2 from the others; its precision and durability in terms of software and construction.
It is true that the packaging and overall construction look substantially better than the other ones. It has very few complaints especially compared to cheaper smart scales.
Connectivity is flawless and the app is by far the easiest, most sophisticated, and most intuitive one among the fitness apps. You must have a Fitbit account to use it though. If you don't have an account you will only see your weight measurements. Previous models had a "guest" mode but sadly current version doesn't have one.
In terms of measurement precision, it is excellent, even for indices that have been scrutinized in the past. However, since cheaper ones put on a good performance of 0.2 lbs as well, Aria 2's error margin isn't really impressive.
| | |
| --- | --- |
| PROS | CONS |
| Top-notch construction | Expensive |
| Exquisite design | You have to have a Fitbit account |
| Easy to use | |
| All functions are automatic | |
| Excellent connectivity | |
OUR IDEA ON IT
Aria 2 is a great choice if you are tired of middling apps and you are okay with paying a bit more for a long-lasting smart scale. However, you can still find most of Aria 2's features on cheaper scales as well, but they are unlikely to have the same reliability and quality of construction. To sum up, it solely depends on what you expect from a smart scale.
Having a very simple and delicate design, Triomph's smart scale is significantly more expensive than the other scales on our list. Let's see if it worths it or not.
MAIN QUALITIES
Brand: Triomph

Error margin: 0.2 lbs/0.1 kg

4 high-quality sensors that can measure;

Weight

,

BMI

,BFR,

Muscle,

Moisture,

Bone mass,

Visceral fat,

Subcutaneous fat,

Protein rate,

Body age,

Standard weight

Jet Black/Pearl White colours with large and readable LCD backlit screen

Material: Strong tempered glass

User Weight Capacity: 400 lbs/180 kg

Opens automatically when you step on it.

Auto-calibration

Once you step on it, you get an instant precise readout.

Soft and non-slip feet don't let the scale move without scratching your floor.

Top-notch features like auto-zero.

Warns in cases of overload and battery running low which prolongs battery life.

Powered by 2 AAA batteries that are included in the package

It has 1-year warranty and you can get your money back if you send it back within 30 days
DESIGN AND FEATURES
The style is as minimalistic as it gets, yet exuding a sleek sophistication, regardless of your color choice (Jet Black, Pearl White): a nearly monochromatic surface of just two lines shaping the body you actually fantasize about when you start a diet, which also lets you align your feet in a proper way. In fact, you can barely notice if it is on or not. The LCD backlit panel shows figures with remarkably large and light numerals, which makes it easier to read particularly for the elderly who are nearsighted. The glass on the surface can carry up to 400 lbs. The scale has non-slip and soft feet that keep the scale from moving without a chance of scratching your floor.
All the functions are automatic as one can expect from a scale at this price range and thanks to its high-quality step-on system, you can get the measurements for 16 body indexes the second step on the scale.
Of course, it has precise measurements, owing to its high-quality sensors. Pairing was great, I have paired it to both IOS and Android devices without experiencing a single problem. However, the app is a letdown. In fact, I had to use other apps to check all the features and use the scale in the best way it can be used. It was then easy to save and share my data on my social media pages. Nonetheless, a scale of very high quality like this one should at least have a decent app.
Also, since the scale is not that cheap lithium batteries instead of AAA ones would be nice.
So, is it worth the price or not? Would it be reasonable to buy this model instead of a cheaper one? The manufacturer says that the price is fair due to how well constructed, durable and unproblematic it is overtime. However, since we haven't used it for a long time, it is impossible to confirm these claims. Nevertheless, I can confirm that none of the complaint messages they get is about the scale itself, messages are generally about the app.
| | |
| --- | --- |
| PROS | CONS |
| Amazing construction | Poor app |
| Great and very minimalistic design | Doesn't have lithium batteries |
| Easy to use | |
| Every function is automatic | |
| Very easy to read | |
OUR IDEA ON IT
If you are willing to pay a little bit more for a smart scale then we can show you Eufy Smart Scale P1. For its fair price, it offers you great design, easy and quick setup, simple, and intuitive controls and much more. this successful both in constructional and functionality senses, it is really a shame not having a decent app. However, you can always pair your scale with a different app. It is yours to decide whether durability is worth paying a little bit more for an entry-level scale.
If you are willing to pay a little bit more for a smart scale then we can show you Eufy Smart Scale P1. For its fair price, it offers you great design, easy and quick setup, simple, and intuitive controls and much more.
MAIN QUALITIES
Brand: Eufy.

Model: Smart Scale P1.

Measurements: 280 x 280 x 23 mm / 11 x 11 x 0.9 inches.

14 various types of health data can be calculated;

Weight, BMI, Body fat percentage, Water percentage, Muscle mass percentage, Bone mass percentage,

BMR,

Visceral Fat,

Lean Body Mass,

Body Fat Mass,

Bone Mass,

Muscle Mass

User Weight Capacity: 396lb/ 180kg

Error margin: 0.1 lbs

Precision is increased by %10, thanks to 4 G-shaped sensors.

Anti-slip finish.

Stylish rounded corners

Full-Body Checkup

Weights between 11 lbs – 397 lbs || 5 kg – 180 kg can be measured with an incredibly low error margin

White/Black color options are available

Compatible with other applications such as Apple Health, Google Fit, and Fitbit App

Wireless: Bluetooth 4.2

Displays results in both kg/ lbs units

ITO Technology.

Bio-Impedance Analysis.

Has an app of its own called EufyLife App.
DESIGN AND FEATURES
For sure, this one is one of the best-looking scales you can buy today. Besides the beautiful dark colors and rounded corners that prevent us from breaking the scale by bumping it into something, it has a low and sturdy design that assures stable usage. Also, it has a non-slippery surface made of tempered glass which can carry 397 lbs.
Its automatic functions include activation and calibration. You can easily see the bright whitish numbers on the screen even in dark environments. You can sync your data with EufyLife, Apple Health Kit, Google Fit, and Fitbit; after that step, you can store and share your synced data.
A lovely quality is the quick and easy switching between pounds and kilograms.
Measurements are highly precise, thanks to the Scale's powerful BIA technology and the ITO layer on its top. Bluetooth connection is fast, allowing the readings to be taken almost instantly. Compared to all the affordable scales we have tried, this one definitely has the fastest setup.
You can follow your records and other health trends thanks to the Eufy Home app. The app also recognizes the other users in your family and syncs their data in real-time as well. Also, because all your records are encrypted before transmission, there is hardly any chance of a security violation.
The scale's biggest problem isn't the model itself actually, it is the app. Scale is able to measure 14 different types of data but the app is only able to display the trends for 4 of those, which is sad for a scale with this many qualities. I don't consider this to be much of a problem but the app's home page could teach you more before you start to click everywhere for information.
Another big problem is the measurements are exact only for people over the age of 13. Actually, this goes for many smart scales because of children's ongoing changes and brands solve this problem by not recommending their scale for children under 13 or not guaranteeing an accurate measurement. However, since the price is a little higher than the other ones, a baby mode could be nice. Yet, this shouldn't be much of an issue because if a child has health problems serious enough to make them monitor their body, a doctor should be consulted for the issue anyway.
| | |
| --- | --- |
| PROS | CONS |
| Easy to control | No baby mode |
| High maximum user weight | The app could use and upgrade |
| High accuracy | |
| Awesome design | |
| Auto-calibrating and connection | |
| Great speed and connection | |
OUR IDEA ON IT
If it had a better app, Eufy's Smart Scale would definitely be a top-notch scale with its design, sophistication, and accuracy.
HOW TO CHOOSE A SMART SCALE
Why weighing yourself regularly is necessary?
Weighing yourself every day isn't important just to keep track of your figure. The most important aspect of it is your health. Because our weight and body mass index are crucial for our physical health, not having normal values generally means a health problem of some sort.
Therefore, it is necessary to keep track of your weight on a daily basis in order to maintain your wellbeing and live a long and healthy life. Also, monitoring your weight regularly is a fundamental aspect of any kind of diet. It keeps you motivated throughout your diet, particularly if it is a long one.
However, you may come across some problems.
Why can't we just use traditional scales?
Traditional scales only inform you about your weight. Deciding how healthy you are or your diet's success solely on your weight is often deceptive and, in some cases, risky. When deciding if you are healthy or not based on your weight, you should consider several aspects that cannot be measured or tracked by standard scales.
You can solve all these problems by buying a smart scale. As one of the most recent developments in the world of fitness technology, smart scales have assisted tons of people who are chasing their dream body.
A smart scale transmits data to apps, shows the user many measurements concerning his/her general wellbeing, allows the user to share their progress, and stores their data for the future. The user's heart rate, body fat, hydration level, bone density, and BMI are some of the data transmitted by smart scales. You can download a compatible app to your phone and keep track of them. Also, when connected with the right apps, you can get extra statistics, features, and benefits.
What principle do smart scales work by?
BIA (bioelectric impedance analysis) technology is used on a smart scale to gather data from the user's measurements. The technique is pretty straightforward: a very tiny, imperceptible electrical current is conducted through the user's body. The response of the body is converted into many kinds of data which produces a fairly precise idea of the condition of the body in real time.
Then you can use Wi-Fi or Bluetooth to transmit your data to other platforms. It is a usual thing for a smart scale to have an app of its own so that you can easily keep track of your progress and send it to your loved ones or your health consultant who can provide you with a personalized diet based on your data.
What can be measured using smart scales?
-Heart Rate
The heart rate is a significant indicator of your health and physical condition during the exercise and the rest. A smart scale records all your heart rate data which enables you to review your condition over time.
-Body Fat
You would never want to burn muscle instead of fat, particularly if you are trying to lose weight, and burning muscle is not a rare thing, it is really important for your health. So, you should always monitor your body fat using a smart scale to see which one you are burning. This way you can follow your diet in a way that is really working.
-Hydration Level
Obese individuals often maintain an abnormally large volume of water in their bodies, despite having average fat ratios. Having a scale that can inform you about your hydration level can lead both you and your doctor in the right direction. Also, by knowing your hydration level, you learn whether you are consuming enough water or not. You should keep in mind that, if you stay dehydrated for a long time you are likely to experience health problems.
- Body Mass Index (BMI)
As we all know, your BMI is crucial when inspecting your health state. It calculates your height and
weight to determine whether you are underweight, overweight, or obese. Obesity is commonly indicated by a high BMI (e.g., greater than 24.9), which necessitates urgent medical treatment, exercise, and nutrition. Of course, all of these will lead to a completely different lifestyle.
-Muscle Mass
This value is important for people who work out in order to get stornger and build up muscle. Unlike a traditional scale, a smart scale shows you whether you have lost muscle or not, leading you to a better diet and workout routine.
-Bone Mass
The mass of your bones can also be measured using smart scales. A reduced bone density may lead to osteoporosis which is a disease that disfigures your body, causes pain, and makes your bones brittle. If you notice an unusually love bone density you can change specific things in your lifestyle to slow down or even stop the process.
Which are Some Basic Qualities of Smart Scales?
-Power
The majority of smart scales are powered by batteries. If you buy a cheap smart scale, they will most likely be using AAA batteries but with more expensive ones you have a chance to find one that is powered by lithium batteries which last a lot longer than AAA ones.
-Maximum User Weight
This is a very important thing to consider when purchasing a smart scale. You must ensure that the scale you are going to buy will withstand and function properly when the heaviest member of the family is using it. Most smart scales support a body weight of 400 lbs but it is always better to check before buying.
-Number of Users
A successful smart scale would be able to keep track of multiple users individually which will allow everyone in the family to use it comfortably without confusion. Most models would recognize the user that is using the scale and transmit their data to their own profile. Some specialized versions also have a "baby mode" or "pregnancy mode" which allows you to monitor things you wouldn't able to do with different scales.
You shouldn't think that smart scales are for athletes or people struggling with their weight. If you are taking your wellbeing seriously and want to protect it then using a smart scale can help a lot!